Last updated:
Shelbourne, Nova Scotia is a unique town on the south shore of the province, about a 2.5-hour drive away from Halifax. It doesn't have the star status of Peggy's Cove and Lunenburg but what it does have is the third best natural harbour in the world, unobstructed waterfront views thanks to the filming of The Scarlett Letter in 1994 starring Demi Moore and Robert Duvall (which required burying electrical cables and refurbishing buildings), colourful 18th century buildings, great walking trails, beaches, a cool lighthouse, interesting museums, a microbrewery, a handful of wonderful places to eat – and most importantly, welcoming citizens who are happy to see tourists. This is a part of Nova Scotia that should be on your must visit list.
I spent three days and nights in the area, squeezing everything I could into my stay. I had a few misses, partially because business hours are shortened come the fall, but I can tell you, this area shines. Described are the best things to do in Shelburne, Nova Scotia – and nearby, including Lockeport. All places were personally visited, walked, kayaked, eaten (a few exceptions) or stayed in. 
Summary of things to do in Shelburne, Nova Scotia
Visit the Black Loyalist Heritage Centre in Birchtown.
Enjoy a picnic and a stroll through Islands Provincial Park.
Walk out to the Sandy Point Lighthouse.
Check out the Historic Museums by the Sea including the Dory Shop Museum, Ross-Thomson House, and the Shelburne County Museum.
Walk mile long Lockeport Crescent Beach.
Meander along Shelburne's historic waterfront.
Sign up with Candlebox Kayaking for a paddle.
Walk the Jordan River Trail.
Hike the 4-kilometre Lockeport LoopWalking Trail.
Enjoy a flight of beers at Boxing Rock Brewing Company.
Dine well at Charlotte Lane Café.
Spend a few nights at the Cooper's Inn.
This post includes some affiliate links. If you make a qualifying purchase through one of these links, I will receive a small percentage of the sale at no extra cost to you. Thank you very much for your support.
Location of the best things to do in Shelburne and nearby
Visit the Sandy Point Lighthouse at low tide
Sandy Point Lighthouse is unique. It's located at the east side of the entrance to Shelburne Harbour on a sandbar. Of course, you can visit at any time of day on any day of the year, but if you time your visit for low tide, you'll be able to walk all the way out and see this beautiful lighthouse up close. Check this tide forecast website for low tide times in Shelburne.
When I visited in October, the water was still warm enough for wading so in summer, I think it would be quite a lovely spot to enjoy a swim. There is a picnic area near the parking lot so you can simply relax and enjoy the view – perhaps of boats going in and out of the harbour. It's a great spot too if you're a birder or photographer.
Sign up for a kayak tour with Candlebox Kayaking
My friend Jo Beyers and I were able to sign up for the Port Mouton Bay and Island Experience kayaking tour with owner Matt DeLong of Candlebox Kayaking in mid-October. I was lucky Matt was running a tour so late in October – but as it turned out, the weather and conditions were some of the best of the entire kayaking season.
On arrival at the dock in Central Port Mouton, we were greeted with a fog rainbow, the first one I'd ever seen. From there the day just got better and better. We kayaked and looked for seals in the calm waters of Jones Cove. There were lots to see – and hear. Next was a paddle through a passage to the far side of Spectacle Island, home to an 1873 wooden lighthouse. We were told to keep our eyes peeled for porpoises and even minke whales around here, but we came up short on that front.
Our goal was a beautiful white sand beach on Port Mouton Island. Once on land we had time to wander to the end of the beach, dipping our toes into not-too-cold water before a wonderful shore lunch. We were never rushed and felt like we had all the time in the world on the island before we had to paddle back. It was a memorable day and an experience I'd highly recommend.
If you want to see what the kayaking experience looked like, check out my reel on Instagram here.
Get a history lesson at the Black Loyalist Heritage Centre
My eyes were opened when I visited the Black Loyalist Heritage Centre in nearby Birchtown. This is the place to come to learn about the 3,000 plus Black Loyalists in Nova Scotia who ventured here with the British in the late 18th century with promises of land and freedom following the end of the American Revolution. As one exhibit explains, "Without the tragic history of the transatlantic slave trade, there would be no black loyalists. We descendants would not be here. There would be no story to tell. But we are here. And our story begins in Africa."
The centre does an incredible job with its multimedia presentations allowing you to do a deep dive into the history on many topics including what life was like in Birchtown, what it was like for the 1,196 Black Loyalists on the journey to Sierra Leone and what became of some of the descendants. It's hard to fathom the stories you read here. 
You can also visit a schoolhouse, St. Paul's Anglican Church, the Black Burial Ground, a Heritage Trail, and a Pit House. If you get as far as Shelburne, be sure to set aside a minimum of 90 minutes to visit the Black Loyalist Heritage Centre.
Take a hike through Islands Provincial Park – and camp in summer
I figured a visit to Islands Provincial Park, situated across the bay from colourful Shelburne, would take me at most 30 minutes to visit. Ninety minutes later, I felt like I'd rushed the experience.
There is a network of roads and trails that are ideal for hiking. In mid-October the park is closed to campers, but still accessible to visitors on foot. I wandered everywhere I saw a trail or a beautiful scene. In fall with the colours bursting, and the sun shining there was lots to photograph. And it was a treat to sit on a bench and just be – watching the world go by. This park is perfect for those of you wanting to picnic, enjoy some birding or easy hiking.
Come back in summer between early June and Thanksgiving weekend if you're a camper. There are 61 unserviced campsites and 2 walk-in campsites. You'll find drinking water, showers, firewood, ice and even Wi-Fi at the registration kiosk.
Explore Shelburne's Waterfront Heritage District on foot
You could walk Dock Street in under 10 minutes if you wanted to – but it's filled with colourful homes and historic buildings reflecting 18th century architecture. Take your time, walking the 10 blocks from end to end. Give thanks that Hollywood discovered this town as a few movies have made a long term difference, including adding a steeple to the Cox Warehouse and rebuilding the beautiful Barrel Factory. 
Row a dory and visit the Dory Shop Museum
One of the top things to do in Shelburne is to visit the Dory Shop Museum. Learn about the Shelburne Dory, called the "workhorse of the Atlantic" and its role in the Grand Banks fishery from 1880 until 1971 – and watch one being built onsite by the master dory makers. Milford Buchanan, one of the three master dory makers told me "It takes four months to build one – not like the boat or two per day in the past." He also told me that the "paint colours, dory buff yellow and clipper green are used because they are visible colours in the fog."
There seems to be a friendly rivalry between Shelburne and Lunenburg as to who builds the best dory. The difference to a non woodworking person seems minimal: the rocker is two inches shorter in a Shelburne dory, and there is a bullnose cut on the bow. The ribbon or rub rail is thinner too – so the boat is lighter. According to one article I read, Milford also said "Theirs leak. Ours don't."
The museum is open from June until mid-October. If you're around in summer and early fall, be sure to stop by and take advantage of the opportunity to row a dory in the harbour. It looks like it takes some practice.
Visit the Shelburne County Museum
Step inside the recently overhauled and updated Shelburne County Museum to learn about more than 200 years of settlement in the Shelbourne area. The exhibits draw on Mi'kmaq, Loyalist, African, and Welsh heritage along with Shelburne's shipbuilding and fishing history. The oldest fire pumper in Canada (built in the 1740-50's) and a coffin transporter are popular exhibits but if you've got the time, check out the costumes, antique tools, maps and a light from Cape Negro Island Lighthouse. There is also an onsite gift shop with plenty to tempt you.
Wander through the Ross Thomson House
A visit to the Ross-Thomson house, owned by George and Robert Ross, offers a view of what daily life looked like in the 1780's when Loyalist refugees from the US began new lives in Shelburne after the American War of Independence. The fully restored house looks as it would in Loyalist times. Check out the living quarters and Militia Room. Visit the store attached to the house and check out the goods offered in 1785 including tea, coffee, rum, port, molasses, coils of hemp rope, salt codfish, pickled herring, candles, and tobacco.
What you won't find quite yet is information about the use slave labour in the production of the goods sold in the store. That story is being retold with the help of the Black Loyalist Society, so expect to see changes going forward. 
Stay at the charming Cooper's Inn on historic Dock Street
When I opened the front door to the gorgeous Cooper's Inn, and was warmly welcomed by new owner, thirty-two-year-old Amanda, I knew instantly I was in for a treat. Amanda who hales from the London, Ontario area, bought the inn in early summer 2022 though she had no prior experience in the hospitality industry. Kudos to her for doing a great job and making the inn feel like home. She oozes energy and ideas so changes and upgrades are coming BUT still, I loved my stay and would return in a heartbeat.
My bedroom overlooking the harbour was roomy and comfortable. The back garden is beautiful – though Amanda said all she tried to do this summer was keep the plants alive. She did a fine job. Breakfasts are delicious and the conversation over my meal a great way to start the day. You couldn't ask for a better location either, as most everything in Shelburne is in walking distance.
The inn is open from early May to late October. You can book a stay here.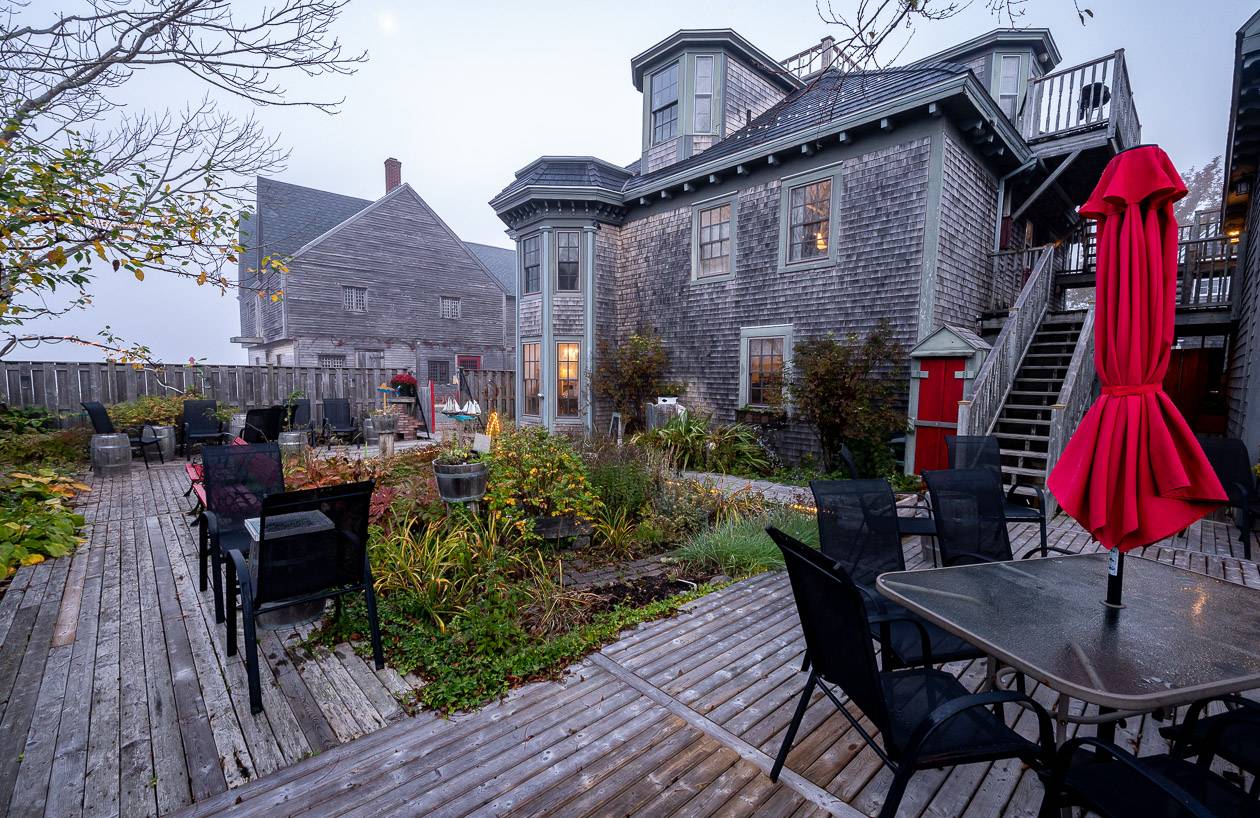 Hike the Jordan River Trail
Google 146 Hayden's Road and you'll find the trailhead for the Jordan River Trail. It's a short drive south of Jordan River via Highway 3. From downtown Shelburne it's only a 15-minute drive.
The Jordan River Trail is on the decommissioned Halifax and Southwestern railway line. It moved freight and people between Yarmouth and Halifax from 1907 to 1969. Today, the trail is ideal for walkers. There are two parts to it – starting on either side of the road by the parking area.
The section heading west towards the Jordan River takes you through trees and past a salt marsh where you're likely to see herons, ducks, and sea birds. Cross the Jordan River on a sturdy bridge with views up the river in one direction and out to the ocean in the other. Note the wind chime at the western edge of the bridge. End at the Jordan Branch Road. The trail does continue but then it's part of the Trans-Canada Trail. 
The southern section of the Jordan River Trail takes you through pretty forest parallel to the Jordan River, and then along the edge of the salt marsh to end at Hayden's Road. Both sections are gorgeous in fall thanks to red maples, tamaracks, mountain ash, and birch.
Walk the 4-kilometre Lockeport Loop Trail in Lockeport
Open year round, the Lockeport walking trail is a 4-kilometre loop walk that includes two old CNR trestle bridges, a boardwalk, sand dunes, pretty views, some bird life, and a salt marsh. What you won't find much of is signage, though you can see the rail trail from Brighton Road as you head into and out of Lockeport.
Before I did the walk, I checked out Google Maps. It was mildly helpful, but at least it showed that part of the Lockeport Walking Trail is also called the Shelburne County Rail Trail. This is one of the prettiest points on the trail – and it will help you get oriented. 
You could park your car in town along the route, at the Crescent Beach Centre at the corner of Locke and Brighton, or where I did at a pull off at the southeast intersection of Brighton and Calf Island Road. From there I simply followed a path beside the highway until I spied a road going down to the trail. I turned right and was immediately on a lovely section of trail close to the water.
You might also have a route-finding issue in town, though it is straightforward. Simply walk south on Hall or Howe Street to reach Beech Street. From its western end behind Lockeport Regional High School, you can pick up the trail – which at this point is on a lovely section of boardwalk. Follow it all the way back to Brighton Road. Turn right and continue beside the highway for just under a kilometre to reach your car.
The route finding sounds more complicated than it is. I think you'll also find that the locals are happy to point you in the right direction.
Check out the Lockeport Town Market
If you're in need of groceries or just want to have a look around at what a well-used village store has to offer in Nova Scotia, visit the Lockeport Town Market at 15 North Street. They sell fruits and vegetables, store-made sausages, aisles of potato chips, bakery items and some groceries. The most notable grocery item for me was the molasses in a litre sized package. I think molasses cookies must be a local speciality. 
Visit Lockeport Crescent Beach
Mile long Crescent Beach in Lockeport is a beauty – especially at its western edge. It's claim to fame is that it was featured on the back of a Canadian $50 bill for twenty years beginning in 1954. It looks much like what you'll see in the first photo below.
In summer at the Crescent Beach Centre, you'll find parking, a visitor information centre, a canteen, change rooms, showers, washrooms, and even internet access. It would be a great place to pack up the family and hang out for a day. There are regular festivals and even a sand building contest in addition to the longest running Sea Derby in Nova Scotia.
A Culinary Guide to Dining in the Shelburne Area
White Gull Restaurant & Marina, Lockeport
Sometimes the unexpected places serve the most memorable food. The White Gull Restaurant in Lockeport is one such place. It's a seafood restaurant with an outdoor seating area overlooking the water. We had two dogs with us so opted to eat outside on the rocks beside the restaurant instead. Between the three of us we order a lobster roll (the best and least expensive one I ate that week), fish and chips (a 2-piece giant serving of haddock with a fresh off the boat taste), seafood chowder (Ted called it divine) and a piece of blueberry buckle for dessert (excellent). Portion sizes are generous, the pricing is excellent, and the staff are super-friendly.
The restaurant is easy to find its beside the Clearwater Fisheries plant. Unfortunately, it's only open seasonally so check their Facebook page to keep track of opening and closing dates.
The Emerald Light Kitchen & Bar, Shelburne
The Emerald Light Kitchen & Bar is on Water Street in Shelburne. They offer eat in and takeout service which we took advantage of. The menu is unique as nowhere else have I ever had eggroll in a bowl – which turned out to be the perfect combo of crunch and spice. The Buddha bowl was a good size, but I liked my choice better.
They are also known for their tacos – especially on Tuesdays when they have a deal. You'll also find local beer, lots of local wine, and a good selection of cocktails.
Charlotte Lane Café & Gift Shop, Shelburne
Charlotte Lane Café, housed in a pretty building on one of the prettiest streets in Shelburne, is also the "fanciest" restaurant in town. Open year round, it offers lunch, dinner, and a Sunday brunch. 
The winter menu is slightly different than the one we ate from, but I bet the seafood linguine is just as amazing as the shrimp linguine my friends adored. I had a beautiful plate of scallops and vegetables that satisfied my craving for Digby scallops. Ted also had the seafood chowder shown below but in all honesty, he preferred the less pretty one from White Gull, though the hunks of seafood were excellent. 
The restaurant has a great ambiance and is absolutely worth enjoying when you visit Shelburne.
Mr. Fish, Shelburne
Mr. Fish, a fast-food restaurant, wasn't open early in the week when I visited (or I googled the wrong place??) though normally it's open every day from 11 AM until 8 PM. I heard from someone who works at the Shelburne Museum that it's a staff favourite so I'm sorry I didn't try it. You'll find seafood, chicken, and lots of burgers including lobster and scallop burgers along with a variety of poutines and sides. Everything comes with a serving of fries.
Boxing Rock Brewing Company, Shelburne
I had planned to enjoy a beer and dinner – and maybe even some ax throwing – on a Thursday night at Boxing Rock Brewing Co. in Shelbourne. When I showed up with my friends at 7 PM in mid-October it was closing, so I never had a chance to enjoy one of their craft beers or a Community Flight which comes with local lore and recommendations on where to visit. So don't assume anything when you're in small town Nova Scotia in October. My mistake.
However, I had driven past the brewery several times during my three days in Shelburne and I can tell you it's normally a hopping place. So go and enjoy!
The Beandock, Shelburne
Coffee and pastries aside, I love the building The Beandock is in. On a sunny day, it's a perfect place to sit outside, sip your latte and scarf down a cinnamon roll or two – they're small so don't feel guilty. Inside, there's a fun vibe, a few gifts and lots of choices when it comes to baked goods. They also offer breakfast and lunch items, smoothies, and ice cream. They are open every day starting at 8:30 AM on weekdays and 10 AM on weekends – but closing times vary. 
The Ship's Galley Pub & Eatery, Shelburne
If you're after an inexpensive meal – be in breakfast, lunch or dinner, head over to the Ship's Galley on Water Street in Shelburne. Look for lots of local seafood items including haddock burgers like the one I had pictured below, fish and chips, burgers, tacos, chowders, salads – all at prices that won't break the bank. Service is friendly and quick too.
More reading on things you're going to want to do in Nova Scotia
A giant thank you to Tourism Nova Scotia for hosting my visit – but rest assured all thoughts and opinions are my own.
Click on the photo to bookmark to your Pinterest boards.