REFLECTOR PHOTOS: Conley returns to top of the mountain for state title | Local Sports
CARY – The long journey is over, and D.H. Conley's volleyball team has returned to…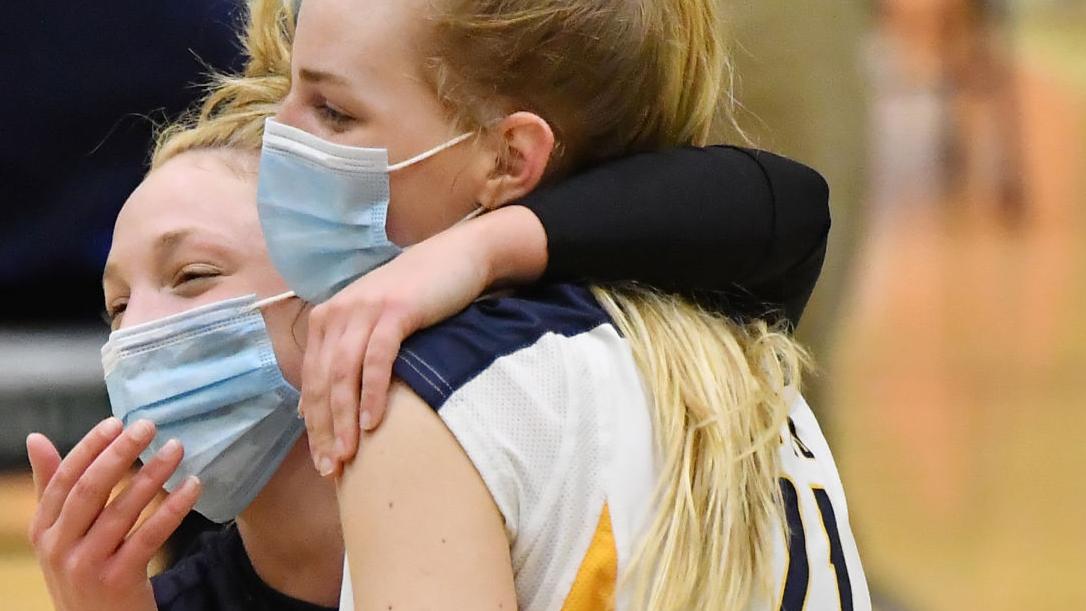 CARY – The long journey is over, and D.H. Conley's volleyball team has returned to the top of the mountain.
The Vikings prevailed over previously undefeated Cox Mill 25-23, 25-23, 25-23 in a tightly contested match to claim the NCHSAA Class 3A state championship Saturday night at Green Level High School.
"I was just really proud of our kids today," said Conley head coach Jennifer Gillikin, whose squad finished 16-1 overall and won the program's first state crown since 2007 and third overall. "We were very focused and in control, we had a game plan and we stuck to it the whole three sets.
"It was nice to see the teamwork displayed and how much they encouraged each other," Gillikin said. "They've been doing that all season. This is such a hard-working group that has been working so hard since June for this moment, and it's been a goal of ours since day one. So to see what they've accomplished is just amazing."
When Conley players convened for workouts over the summer, no one knew what the season would look like or how long it would last.
But not even COVID-19, the reshuffling of the schedule, missing players due to coronavirus protocols or having three instances where they had to play two matches in the same day, to having to beat Chapel Hill in a rematch of last year's Eastern 3A finals could keep the Vikings from their goal.
"It's amazing to get to the state championship," Gillikin said. "We have certainly been here several times and walked out without the win. But to get here and win it is just the icing on the cake.
"This has been a very challenging season with having to deal with COVID protocols and quarantines and players being out for 14 days," she added. "But this group has just persevered through the whole thing and they've worked really hard and they've stayed together. We've made numerous lineup changes right before big games and they've stepped up to the challenge every single day."
Conley was seemingly in control in the third set, 18-11, and still led 20-16 when Cox Mill (18-1) rallied behind senior outside hitter Raven Gray (21 kills) to close the gap to 19-16.
A kill by Maddy May, and a combination block by Sara Dees and Olivia Lefever briefly halted the Chargers' momentum, but Ava Douglas served three straight points to give Cox Mill a 23-22 lead, forcing a timeout by Gillikin.
As they had done all season, the Vikings never wavered.
Dees came up with a crosscourt kill to tie it, sending her to the service line.
The Chargers couldn't handle the first one, and on championship point, junior Ella Philpot came through with the block to seal the championship.
"I think we came in with some really good confidence," said May, who was named the Most Valuable Player with 10 kills and eight digs. "I think our team culture this season is a testament to our seniors (Dees, Lefever, Haley Jackson, Lilly Bennett, Arianna Crumpler and Olivia Dees) – they have led and done a great job, every one of them. I think we wanted to win for them; they're such a great group. I know that was a motivating factor for me."
"I was praying for a block, and Ella was there," May added. "She's good at that and she came through."
Cox Mill started strong behind Gray, who vaulted the Chargers to a 10-7 lead.
"We knew coming into this match that she was their biggest threat. You didn't have to watch much video to know that," Gillikin said. "Our girls were not intimidated. We fortunately have been in the Eastern Finals four or five years in a row and played teams with talented players like her. I was proud of the hard work our girls put out on the court."
They went back and forth as the score became deadlocked at 16, 17, 18, 19 and 20 in the opening set before a Cassie Dail set led to a Dees kill that put Conley ahead 21-20.
Gray's kill tied it at 21, and the Dail/Philpot combination worked again for a 23-21 advantage before Gray struck again to make it 23-22. A sideout made it 24-22, and Cox Mill's serve into the net two points later gave the Vikings the first set.
The second set was much like the first, with several lead changes and ties.
A combination block by Dees and Lefever put Conley up 13-11, and the Vikings were able to maintain their slim lead thanks to Philpot, May and Jackson.
Cox Mill cut it to 22-20 on a kill by senior Robin Rosser and a block, forcing another Conley timeout. Again, it was Dees with a kill to make it 23-20.
The Chargers rallied to tie it at 23-all, but Dail set up Ashlyn Philpot for a kill for the 24th point, and Philpot's block gave the Eastern champion a two sets to none lead.
Dees' four points – highlighted by a dig from May and kills from Ella Philpot and Jackson – staked Conley to a 5-0 advantage in the final set.
The Vikings kept their advantage until Cox Mill, behind Rosser and Gray, led the Chargers' comeback.
"We told the girls during the timeout down 23-22 that this was our set – we were not going to go to a fourth set, we were gonna finish it in three. Go out there, stay in control and play our kind of ball," Gillikin said.
Lefever felt experience of playing in the finals before might have been a telling factor.
"Going into this, we had been here before and I believe that gave us an advantage," she said. "We knew what the atmosphere was going to be like and what we were getting ourselves into. Whenever someone has been asked to bring it, they have."
While May was appreciative of the MVP honor, the team's accomplishment was more important to her.
"Honestly, (the MVP) means nothing to me – the state championship would have been enough," she said. "It's cool – whatever – but I think any girl on the court tonight could've gotten it and I was just lucky enough to receive it."
Being able to go out on top is special for Lefever and the senior class.
"I couldn't have asked for a better way to end my volleyball career," she said. "I had chills the whole last set thinking I was going to end it this way. I couldn't have asked for better teammates and this is a great way to end our season. I'm very proud of what we accomplished."
Gillikin, in kind, praised Conley's senior class.
"They have been such an amazing group of girls," she said. "They're great friends outside of volleyball and they have brought such a good culture to our team. I can't say enough about the senior class."
MATCH NOTES: Conley had previously won state championships in 2007 and 1986 prior to Saturday's third crown and was making its first finals appearance since 2018 when it lost to Marvin Ridge…The Vikings are now 109-35 over 39 years in the state playoffs, the most wins all-time according to the NCHSAA record book…Statistical leaders for the Vikings against Cox Mill included Dees (eight kills, seven digs and four blocks), Lefever (16 assists, 10 digs and three kills), Ella Philpot (seven kills and three blocks), Haley Jackson (four kills, two digs and a block), Ashlyn Philpot (four kills, two digs, three blocks), Cassie Dail (14 assists and six digs), Caroline Dobson (five digs) and Carson Corey (four digs, assist). Olivia Lefever was named her team's sportsmanship award winner prior to the contest; Tola Jegede was the winner for Cox Mill.