The 10 Most Iconic Movie Actors Of The 2010s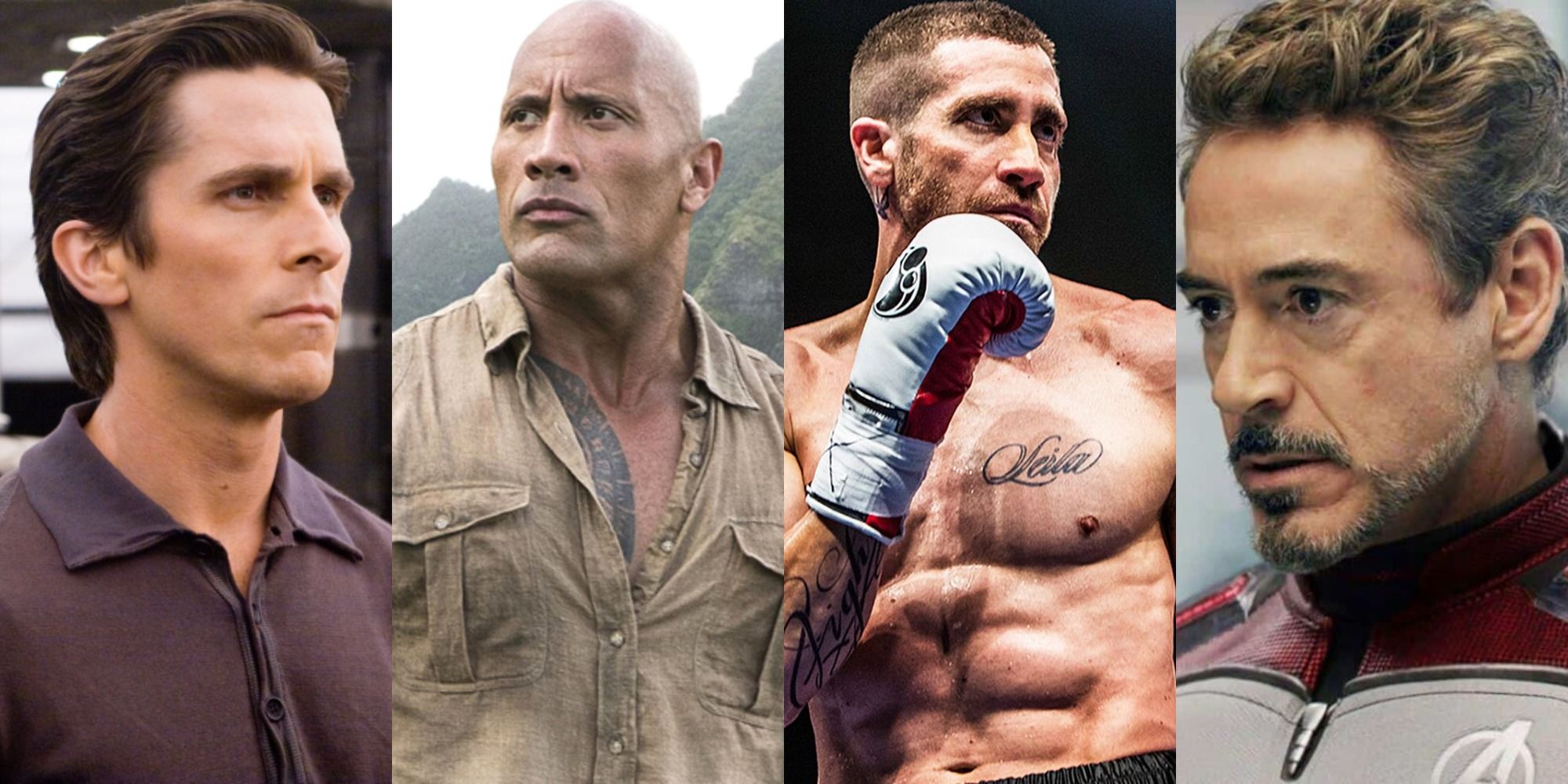 In the cinematic landscape, the 2010s were the age of the superhero. Comic book-based movies dominated the conversation and the movie theaters, breaking record after record and eventually becoming the most successful source of revenue for Hollywood studios. Franchises and blockbusters also contributed, but there's no denying the superhero became king.
RELATED: The 10 Most Iconic Movie Actresses Of The 2000s
In this ever-changing environment, several actors' careers flourished, peaking even. Some of these performers were already big stars who consolidated themselves during the decade, while others made a name for themselves from scratch. However, all of them became synonymous with 2010 cinema.
Adam Driver
It's hard to think of an actor with a more meteoric rise to fame than Adam Driver. Before beginning his acting career, Driver served in the military and rose to prominence with his role in HBO's Girls, later appearing in supporting roles in movies like Lincoln and Frances Ha. Driver received critical acclaim for his work in Hungry Hearts and Paterson before garnering international fame by playing Kylo Ren in the Star Wars sequel trilogy.
Driver received back-to-back Oscar nominations in 2018 for his supporting work in Spike Lee's BlacKkKlansman and 2019 for his leading performance in Noah Baumbach's Marriage Story. He ended the decade as a bonafide leading man with a taste for risky and experimental projects.
Samuel L. Jackson
Already one of the most iconic actors in movie history, Samuel L. Jackson solidified his reputation as "the man" throughout the 2010s. Jackson spent most of the decade playing head honcho Nick Fury in multiple MCU projects, most notably 2012's The Avengers, 2014's Captain American: The Winter Soldier, and 2019's Captain Marvel.
RELATED: The 10 Most Iconic Movie Actresses Of The 1990s
In between MCU duties, Jackson starred in several acclaimed movies. He re-teamed with Quentin Tarantino for 2012's Django Unchained and 2015's The Hateful Eight and played leading roles in the tentpoles Kingsman: The Secret Service and Kong: Skull Island. Jackson also returned to some of his most acclaimed characters, appearing in the sequels The Incredibles 2, Glass, and Shaft.
Christian Bale
Christian Bale cemented himself as a big-screen icon in the 2000s, mainly thanks to his grounded take on Bruce Wayne/Batman in Christopher Nolan's intense Dark Knight trilogy. He began the 2010s winning the Oscar for Best Supporting Actor for David O. Russell's The Fighter.
He'd receive three more nominations during the decade for another O, Russell project, American Hustle, and two Adam McKay films, The Big Short and Vice. Bale also reprised his Batman role one last time in 2012's The Dark Knight Rises, giving his iconic role a proper send-off.
Leonardo DiCaprio
The 2010s were when Oscar bridesmaid Leonardo DiCaprio finally won the coveted statuette. The beloved and revered actor claimed the top prize for his role in Alejandro González Iñárritu's The Revenant, finally receiving some much-deserved recognition after years of consistent and stellar work.
DiCaprio also continued his collaboration streak with prestigious directors during the decade. He worked with Christopher Nolan in 2010's Inception, re-teamed with Martin Scorsese on 2013's The Wolf of Wall Street, and starred in two Quentin Tarantino projects, 2012's Django Unchained and 2019's Once Upon a Time in Hollywood.
Jake Gyllenhaal
Although Jake Gyllenhaal achieved great success during the 2000s, including an Oscar nomination for 2005's Brokeback Mountain, his career reached a new level during the 2010s.
Gyllenhaal became notorious for his bold acting choices in unconventional projects that cemented his reputation as one of Hollywood's most versatile performers. Some of his best movies include Tony Gilroy's Nightcrawler, for which he should've received an Oscar nomination, Denis Villeneuve's Prisoners and Enemy, Tom Ford's Nocturnal Animals, and Bong Joon Ho's Okja. Gyllenhaal ended the decade by playing Mysterio in 2019's Spider-Man: Far From Home.
Tom Hardy
Tom Hardy received his breakthrough role in Christopher Nolan's ambitious sci-fi adventure Inception. The film propelled him to stardom, which he capitalized by playing the villain Bane in Nolan's third and final Dark Knight film.
2015 saw Hardy star in two of the most successful films of his career, critically and commercially. He played the lead role in George Miller's Mad Max: Fury Road and an antagonistic part in Alejandro González Iñárritu's The Revenant, for which he received an Oscar nomination. Hardy then played his second comic book character, Eddie Brock, AKA Venom, in the 2018 film of the same name.
Ryan Gosling
The 2000s saw Ryan Gosling make a name for himself as a leading man, thanks to films like The Notebook and Half Nelson, for which he received an Oscar nomination. However, like Gyllenhaal and Hardy, the 2010s saw Gosling taking on increasingly challenging projects, earning a reputation as a prestigious and risk-taking performer.
Gosling began the decade with the heart-wrenching and realistic romantic drama Blue Valentine. He followed it up by starring in a mix of critically acclaimed films, like Drive and The Place Beyond the Pines, and commercially successful fanfare, including Crazy, Stupid, Love and The Big Short. In 2016, he earned a second Oscar nomination for his work in Damian Chazelle's La La Land and played the lead in two major productions, Blade Runner 2049 and First Man.
Dwayne Johnson
Love him or hate him, there's no denying Dwayne Johnson owned the 2010s. After beginning his acting career in the early 2000s, Johnson moved on to comedy and family action-adventures films like 2010's Tooth Fairy and 2012's Journey 2: The Mysterious Island.
By the middle of the decade, Johnson was a bonafide leading man and action star, starring in hit after hit. He had roles in two major franchises, Fast & Furious and Jumanji, and scored major box office and critical success with films like Moana and Central Intelligence.
Robert Downey Jr.
Robert Downey Jr. began his career in the 80s as part of the so-called "Brat Pack" before achieving critical success in the 90s. He received an Oscar nomination for 1992's Chaplin and garnered acclaim for his role in Ally McBeal. However, his career seemed near finished when he got cast in 2008's Iron Man, the MCU's first official project.
RELATED: The 10 Most Iconic Movie Actors Of The 1990s
Iron Man made him a major star, and Downey became the central figure of the MCU, appearing in two Iron Man sequels, four Avengers movies, and playing pivotal roles in Captain America: Civil War and Spider-Man: Homecoming. The undeniable superhero figure in cinema, Downey is the poster child for the genre and one of the most successful actors of the 2010s.
Bradley Cooper
After beginning his acting career with a guest-starring role in Sex and the City, Bradley Cooper spent the 2000s making a name for himself. His breakthrough came with 2009's The Hangover, but the 2010s elevated him to the A-list, critically and commercially.
Cooper earned back-to-back Oscar nominations for two David O. Russell projects: the romantic comedy Silver Linings Playbook and the black comedy heist American Hustle. He received a third mention for Clint Eastwood's 2014 war film American Sniper and a fourth for his devastating turn in his directorial debut, 2018's A Star is Born. Throughout the decade, he provided voice acting for Rocket Racoon in several MCU projects and received Oscar nominations for producing Sniper and ASIB.
NEXT: The 10 Most Iconic Movie Actors Of The 2000s
Uncharted Director Won't Reveal Who Plays [SPOILER] in Post-Credits Scene
About The Author