Studying the details integral to Muma's brilliance | Football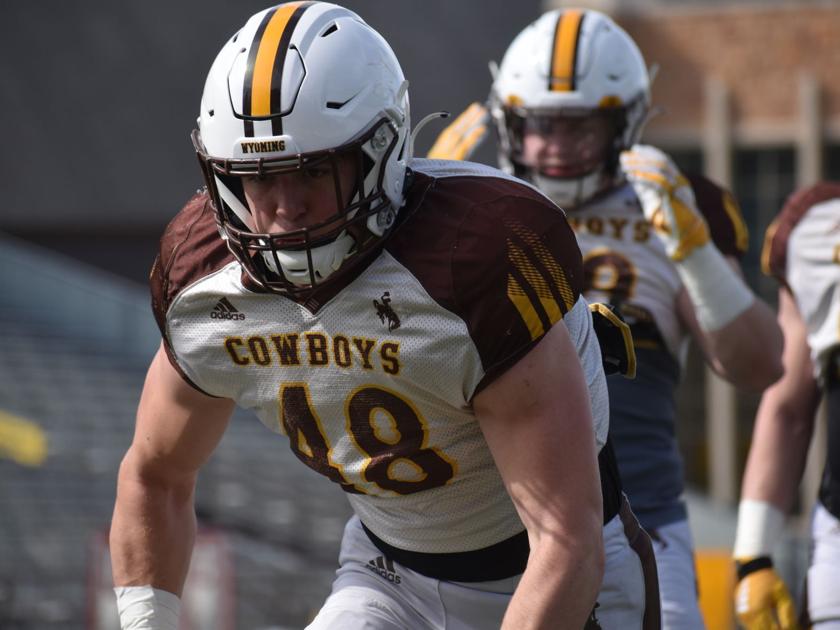 LARAMIE – If memory serves him correctly, it all started with Journey's classic "Don't Stop Believing."
University of Wyoming junior linebacker Chad Muma – the Cowboys' All-Mountain West selection and a likely All-American candidate in 2021 – took piano lessons as a child for about a month. It didn't really materialize into anything more until he was 8 or so.
That's when Muma remembers hearing Journey's karaoke bar-favorite and deciding he had to learn how to play it on the family piano.
There were a few roadblocks to mastering the song, of course. Among them was the fact Muma can't really read music. So he did what a lot of kids who grew up in the late 2000s did: he consulted YouTube.
How does one learn to play a song without being able to read the music? It's really quite simple, Muma said: you study the hands of other pianists playing the very song you desire.
There is something extremely rewarding about this do-it-yourself method of learning. And it's not all that different from studying football film.
"I basically learned all my songs from YouTube," Muma said with a laugh.
His current memorized repertoire also includes The Animals' "House of the Rising Sun," Bruno Mars' "When I was Your Man" and the Eagles' "Desperado." He also has the beginning of Eminem's "Lose Yourself" down, and is currently working on some Adele songs.
By many accounts, Muma is the kind of person who largely keeps to himself. So, as fellow linebacker Easton Gibbs said, this musical expression came from out of left field.
"He's a shy guy. When I saw that, I was kind of confused, because he's never mentioned it or anything like that," the redshirt freshman said with a laugh. "I didn't know Chad had that side to him … It's definitely cool to see him out of his element a little bit, playing the piano and singing."
None of Muma's teammates were aware he could play the piano at all, much less owned a keyboard he still plays regularly at home with his roommate, former Cowboys running back Brett Brenton. It only became common knowledge when Muma's mother, Kara, posted a video of Chad playing and singing "Great Balls of Fire" for a contest at Legend High in a "Throwback Thursday" post a few weeks back.
There's more context needed to truly appreciate all the video entails, however. Muma wasn't even expecting to take part in the show, called Mr. Titan in honor of the Colorado high school's mascot, until about a week beforehand. He learned "Great Balls of Fire" for the talent show portion of the contest in just two days.
He then, of course, proceeded to win the Mr. Titan crown.
His UW teammates and coaches were stunned by the video in the best possible way. Where had this talent been hiding?
"I will make sure that I find a way for him to be able to do that at some point, that I want to hear that," UW defensive coordinator Jay Sawvel said. "Maybe when we go to a hotel sometime in the fall, we'll find a piano there in the hotel. That'd be kind of cool."
Muma's curiosity and intelligence are evident in talking to him for the briefest periods of time. There's a reason he's a mechanical engineering major, a mainstay on the MW's All-Academic team, and spends up to 16 hours per day doing schoolwork and football-related activities.
You don't get to where Muma has gotten on and off the field without studying the unfamiliar or uncomfortable and wanting to challenge yourself. The status quo does not breed that type of greatness.
"One of the biggest things that is true in my life is, you learn something new every day," Muma said.
Following in the steps of Logan Wilson and Cassh Maluia, Muma excelled in his first season as full time starter for the Cowboys. He made 71 tackles in six games, averaging 11.8 per game. Over the course of a normal 12-game season, he would have had about 142 tackles, 31 more than Wilson ever had during his brilliant career.
Muma was never worried about following in the footsteps of legends like Wilson, instead content to write his own story. But it's a story that has been written through rigorous study and preparation.
"You just don't know that a guy is going to be as good as he is until you really, really get in," Sawvel said. "What he means to us defensively is just kind of immeasurable."
When he isn't perusing YouTube for piano inspiration, Muma spends time watching film of other linebackers. Among his favorites to watch are former Carolina Panthers All-Pro Luke Kuechly and Penn State's Micah Parsons, who was just drafted by the Dallas Cowboys 12th overall in the 2020 NFL draft.
Muma also spends plenty of time breaking down his own film, an odd proposition that can be somewhat humbling and occasionally embarrassing. Studying how a linebacker tracks the ball, moves his feet and uses his eyes isn't all that different from watching a pianist's hands to memorize a new song.
When studying his own film, Muma doesn't look at it as watching his himself, per se. Instead, it's like watching Kuechly or Parsons, seeing what went right and what sometimes goes wrong. You have to be critical of everything, even yourself, to succeed.
"I study my own game," Muma said. "You're not watching yourself. You're watching someone else."
Muma's study habits have clearly paid off. His personal statistics tell that story. UW's defense hardly missed a beat in 2020 despite not having Wilson, Maluia and other veterans, ranking 24th nationally in points allowed per game.
Muma is that cliché coach on the field, someone who is always in charge of the situation, regardless of down or distance. He almost always knows where his teammates are supposed to line up before they do.
"He probably knows every position on the field. Just knowing that, having that knowledge on the field, helps," redshirt sophomore linebacker Chuck Hicks said. "It makes my job easier. Because I know if I mess up, he's got my back. So I thought that was the biggest thing. It's always a relief when you have someone like that next to you."
Muma is bound to be on nearly every defensive award watchlist come fall and will be on the NFL's radar as well. Muma said he hasn't thought about how much longer he will play college football (he has two years of eligibility remaining) and is instead focused on the here and now.
The NFL is a lifelong dream, to be sure, but Muma doesn't want it to get in the way of the present opportunity at hand. So, in the meantime, that likely means more gaudy statistics on the field and taking musical requests for his keyboard from friends.
A few more YouTube study sessions are in Muma's immediate future, and that's OK with him. It's good to always be learning something new. Even if it's just memorizing a few new notes on the piano.
"It's definitely relaxing … getting a little jam session going. Sometimes you'll sing along," Muma said. "Learning the song … is the most rewarding (part)."
Michael Katz covers the University of Wyoming for WyoSports. He can be reached at [email protected] or 307-755-3325. Follow him on Twitter at @michaellkatz.